WCCOLA Spring Meeting
Saturday, May 7th, 9-11am Robert Ney Memorial Park Reserve Maple Lake, MN
You don't want to miss the WCCOLA in person spring meeting! A content rich program is being planned to include: Wright County updates on aquatic invasive species management; the latest on hot state topics including the proposed MN Watercraft Operator's Permit; and preparing for the season's volunteer water quality monitoring program. Also, the Cedar Lake/Wright County Parks CD3 (watercraft cleaning station) will be on-site so you can take a look at the great features it offers.
All are welcome, there is no charge to attend, and no reservations required.
Hope to see you there!
Saturday, May 7th, 9-11am | Robert Ney Memorial Park Reserve, 5212 73rd St NW, Maple Lake, MN
U of M AIS Detector Program
Registration open, tuition reimbursement available
Are you interested in helping prevent the spread of aquatic invasive species? Want to give back to your lake community? You can become an AIS Detector.
Wright SWCD is offering reimbursements for courses to become or renew AIS Detector status in 2022. For questions about the AIS Detectors visit https://maisrc.umn.edu/detectors-core. For questions about reimbursements email Alicia.ohare@usda.gov.
2022 MN Legislature | Proposed Watercraft Operator's Education and Permit (SF3392/HF3787)
Many states require a permit to operate a watercraft, like the permit that Minnesota requires for hunting safety and other recreational vehicles. The Minnesota Legislature and DNR have been evaluating a watercraft operator's permit for several sessions, and this session there is support for the legislation from a wide variety of stakeholders.
The proposed MN Watercraft Operator's Permit legislation would:
–Require the successful completion of an online course, leveraging the current MN DNR course for youth boaters. Stakeholders would be involved in the development of the course material, expected to include education on
decreasing aquatic invasive species spread;
improving boating safety;
lowering user conflicts;
protecting shorelines, lake sediments and lake ecology.
–Allow those visiting in Minnesota for less than 60 days to follow the boating operating requirements from their home state.
–Use a phased-in implementation, based on birthdate.
The legislation is supported by a wide variety of organizations, including the Minnesota Coalition for Lakes Associations, Minnesota Lakes and Rivers, Marine Retailers Association, National Marine Retailers Association, and Tonka Bay Marina.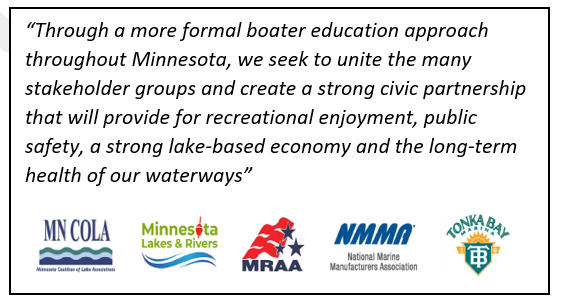 As of mid-March 2022, the legislation has progressed through committee, and is currently in review by Environment and Natural Resources Finance.
Wright County Watercraft Decontamination 2022 Season
May 27 to September 25
9am to 5pm Seven days a week | 1300 Business Blvd, Annandale
Wright County Soil and Water will once again offer courtesy watercraft decontaminations. The pressurized, hot water procedure will decrease the chance of spreading aquatic invasive species. There is no charge for this valuable service; if you are moving watercraft from lake to lake, get it decontaminated to reduce the chance of spreading aquatic invasive species.
U of Minnesota Wake Boat Research

Wakesurfing boats need greater distance from shore to reduce potential impact of waves
A new study by researchers in the University of Minnesota College of Science and Engineering's St. Anthony Falls Laboratory found that popular wakesurf boats require a greater distance from the shoreline and other boats compared to more typical recreational boats. This distance is needed to reduce the potential impact of their larger waves.
The results provide key insights into differences between specialized wakesurfing boats and more typical recreational boats operating on lakes and rivers. It also provides baseline data that can be used for future decision-making.

Click here to see the research brief with links to the full research study.
Minnesota Lakes and Rivers Advocates | Lake Steward Program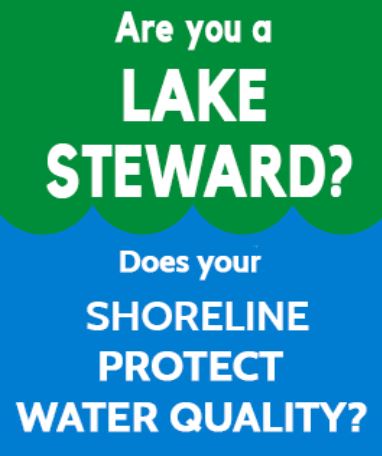 Minnesota Lakes and Rivers has a great program for your lake association to promote shoreline stewardship. Tools, program administration, and all the details are in a tidy package. This is a great project for your lake association; click here to take a short 10 question quiz to "score your shore".
Click here for more information.
_____________________________________________________________________________
Minnesota Aquatic Invasive Species Research Center | Big Wins in 2021
The Wright County Coalition of Lake Association supports the Minnesota Aquatic Invasive Species Research Center. Their annual report is available.
______________________________________________________________________________
Starry Stonewort: Our newest Foe
Starry stonewort is one of the newer aquatic invaders–particularly fearsome due to its aggressive nature and ability to mat and interfere with habitat and recreation. Here are a couple of great videos to provide more information:
Overview of Starry Stonewort from U of Minnesota Aquatic Invasive Species Research Center
4 Minute Video on How to Identify Starry Stonewort
______________________________________________________________________________
Wright County Coalition of Lake Associations Directory
Want to connect with other lakes in your area? A Wright County directory of lakes is available. Please email Kathy Jonsrud at kjonsrud@yahoo.com and a copy will be mailed to you.